What Does Professional Mosquito Treatment Look Like?
August 23, 2018
We all remember why it's important to avoid mosquito bites, right? If you don't, check out our mosquito threat article. However, we will also reiterate here by reminding you that mosquitoes can carry and transmit many different types of diseases. That sickness you had last summer? Yes, that could've been caused by a mosquito bite! That's right, mosquitoes can give you more than just itchy, annoying bumps when they bite. In addition, these pests can present a problem when you want to have friends over for a BBQ in your backyard. They can make a fun event become miserable very quickly. For all the reasons listed above, it's important to take steps to minimize the mosquitoes in your area!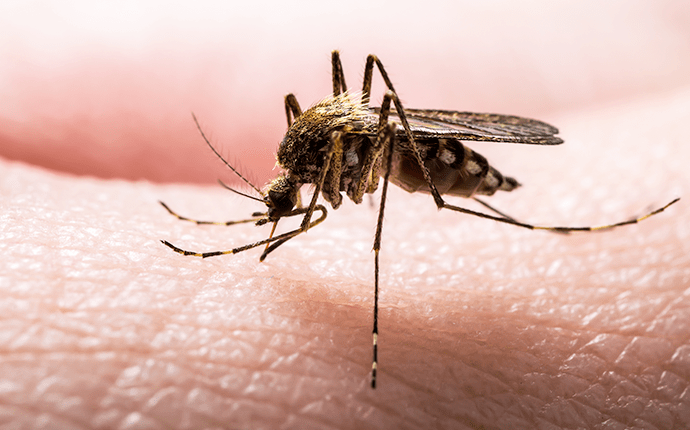 Unfortunately, DIY mosquito control attempts tend to fail due to the daunting task of eliminating all the areas of standing water around your property. It is nearly impossible for a homeowner to find and eradicate every source of standing water around their home, and if any of these water sources are missed, mosquito populations will remain as active as ever. To sum things up, it takes a lot of work to keep mosquitoes away! Leaving the sprinklers on too long may cause extra water in your garden or on your lawn for them to breed, the baby pools that the kids enjoy will need to be dumped out and put away after every use, and any wet leaf piles around need to be raked up, and even after all that work, there could also be standing water on your property that you're unaware that mosquitoes could use to breed. In addition, you may have standing water you simply cannot get rid of, like a pond or a large swimming pool! This is why it's extremely difficult without professional help to control these pests.
At A-1 Pest Control, we offer mosquito treatments to help with the frustration of eliminating these pests. Our team will treat all the standing water around your home with an eco-friendly product that won't harm fish, livestock, or pets. Our services work to eliminate adult mosquitoes and treat breeding sites. These treatments will be provided monthly in order to keep the mosquito populations on your property under control. We will treat up to two acres and everything in the two acres, including pools, ponds, sheds, grass, gardens, and anywhere else that may be a concern! Once the technician is finished, a door hanger will be left with the next treatment date and any recommendations they have to help you remain mosquito-free in the meantime. You do not have to be home during the treatments, so if you're busy that day the job, we will still get done.
A-1 Pest Control offers seasonal mosquito control, but they also offer a one-time mosquito treatment if you're looking for a one-time treatment for an outdoor event. Perhaps you're hosting a BBQ or a family event and don't want it to be ruined with people swatting at and being bitten by mosquitoes. In that case, our one-time treatment might be just what you need. If you choose to utilize this treatment option, one of our technicians will come to treat the area 24-48 hours before the start of your outdoor event. They can also provide tips and recommendations to further reduce the mosquito populations on your own!
If you're interested in getting rid of mosquitoes, we can provide a free quote and help you pick out the mosquito control plan that's right for you. Contact A-1 Pest Control today to get started!
Previous
Next